Festivals and open-air concerts begin with spring and good weather. In fact, the demand for this type of travel experience has doubled in April (+113%) also due to the improvement of the pandemic data at European level and the Easter holidays.

The reopening of event venues, theatres and cultural spaces have increased the importance of this factor by 5.3% over the last year.

More than 13 million data that we analyse on our platform, allow us to know in detail what the cultural traveller is like, how he or she travels, and which are the reference destinations of European travellers.

Don't miss any detail!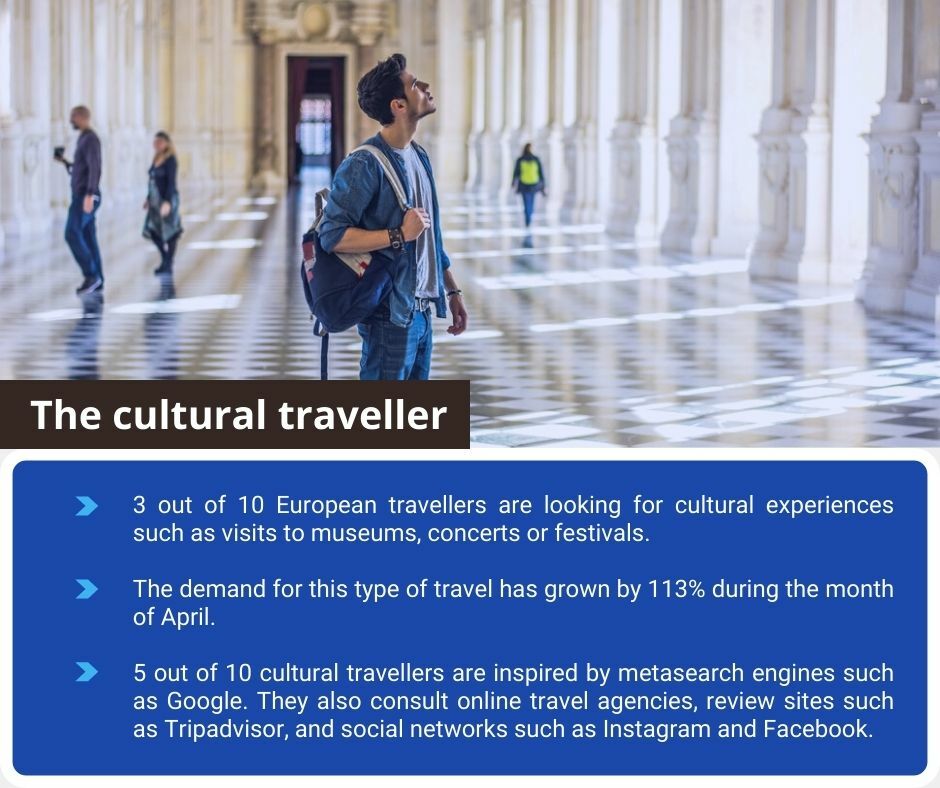 Market research of the Cultural Traveller from Europe

41% of cultural travellers are between 35 and 54 years old and 4 out of 10 of whom have a vocational education. Half are married compared to 30% who are single with a household income between €18,000 and €35,999 and spend among €1,000 and €3,000 on their travel budget.

In addition, 13% of this European target group of travellers state that their budget will be higher than last year.


Where do these segments of travellers get their inspiration for destination choice?

5 out of 10 travellers seeking cultural experiences such as museums, festivals, or concerts on their trips are inspired by metasearch engines such as Google in addition to the experience of their family and friends.

They also consult online travel agencies websites, review sites such as Tripadvisor, and social networks such as Instagram and YouTube among other online channels.

During last year, TikTok has boosted with an increase of 81% in the digital inspiration ranking. In the offline ranking, cinema and movies has increased a 66% its influence among this target.


How important are different aspects of a vacation to this segment of travellers?

Cleanliness, Health, hygiene standards and Safety standards/low crime levels are very important factors for Europeans in their travel choices although fine dining and being active (Sport, adventure) has increased its importance by almost 20%.


How does this segment book their travel?

More than the half use to travel for May to September and they prefer 3-4* hotels, Holiday home (not my own privately owned home) or Budget Hotel/hostels.

Farmhouse has reached a huge popularity during the last year with an increase of 118%.


What are the different behaviours and actions these travellers have done as part of a holiday?

3 of each 10 has chosen a train or bus over a plane ticket and 18% of them has chosen eco-friendly accommodation despite costing more than a regular one.


If you receive an interesting offer for a holiday to somewhere with a travel alert / warning by your official government travel advisory, would you still travel?

Regarding its apprehension level, almost 50% of the target says that they wouldn't travel if they had some travel alerts.


Destination Image Rank

In the top 10 of the country and destinations with best image among this segment are Spain, Italy, Portugal, and Germany among others and 4 of them are destinations in Spain with Tarragona at the top of mind.

These reports give the tourism boards to know deeply which their strengths and weaknesses are compared to its main competitors.

The competition in today's travel industry is tough. Don't lose the opportunity to discover it with a simple, intuitive online dashboard.